imdb user comment:
Neo-classical statues, Paris and Baudelaire - what more could you want?
, 20 December 1999
Author: Darragh O' Donoghue (hitch1899_@hotmail.com) from Dublin, Ireland
Commissioned by French television, this is a short documentary on the neo-classical statues found throughout Paris, predominantly on the walls of buildings, holding up windows, roofs etc. (the title translates as 'the so-called Caryatides'). As one might expect from Varda, the film is strongly feminist, as she draws out wider symbolic and social implications from these images of women holding up huge weights, both then and now, but it is playfully so. The film becomes much sadder when she talks about Baudelaire, whose Paris these ladies grace; his poetry, success, notoriety; his subsequent physical decline, loss of voice and death. These statues are now so familiar that they are barely noticed, but in mapping the mental geography of a city, foreign viewers will be ravished by this Rameau-soundtracked exploration of a forgotten Paris.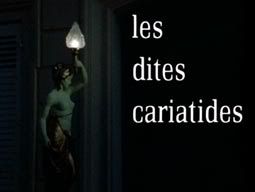 http://rapidshare.com/files/50256384/Agnes_Varda_-_Les_dites_Cariatides.part1.rar
http://rapidshare.com/files/50257867/Agnes_Varda_-_Les_dites_Cariatides.part2.rar
Spanish subs included
English subs:
http://rapidshare.com/files/141212265/Agnes_Varda_-_Les_dites_cariatides__eng_.zip
no pass