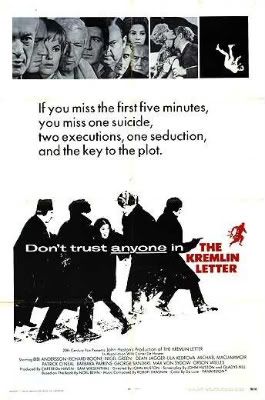 Brief Synopsis
A network of older spies from the West recruits a young intelligence officer with a photographic memory to accompany them on a mission inside Russia. They must recover a letter written by the CIA that promises American assistance to Russia if China gets the atomic bomb.
Plot Synopsis by Tana Hobart
When American agents in Moscow try to recover a stolen letter implicating America in an anti-Red China plot, they discover a hornet's nest of treason, double agents, murder, and betrayal. The plot has as many switchbacks as a Formula One racetrack, and a pad and paper to keep track of the agents and their code names wouldn't hurt. Still, The Kremlin Letter is an interesting espionage movie with some good performances.
http://rapidshare.com/files/401704860/TKL.part1.rar
http://rapidshare.com/files/401720446/TKL.part2.rar
http://rapidshare.com/files/401737931/TKL.part3.rar
http://rapidshare.com/files/401763360/TKL.part4.rar
http://rapidshare.com/files/401781601/TKL.part5.rar
http://rapidshare.com/files/401936976/TKL.part6.rar
http://rapidshare.com/files/401944787/TKL.part7.rar
Rar Password:
oldgit